Posted By:

Janny
Agenda Debate! -

01/07/12

01:51 AM
Anyone who thinks the Agenda of the board is wrong can take a look at the following photograph and tell me I should have paid the women who had this bird in the Classifieds trying her best and arguing to get $500 cash for a cage that hit the garbage and a bird that did not survive the YEARS of neglect this women subjected it too.Believe me the women was quite positive to get $500.She downplayed the injury and what I walked into was nothing to be what I expected.I was told it was a minor injury that just started a few months ago...
Buddy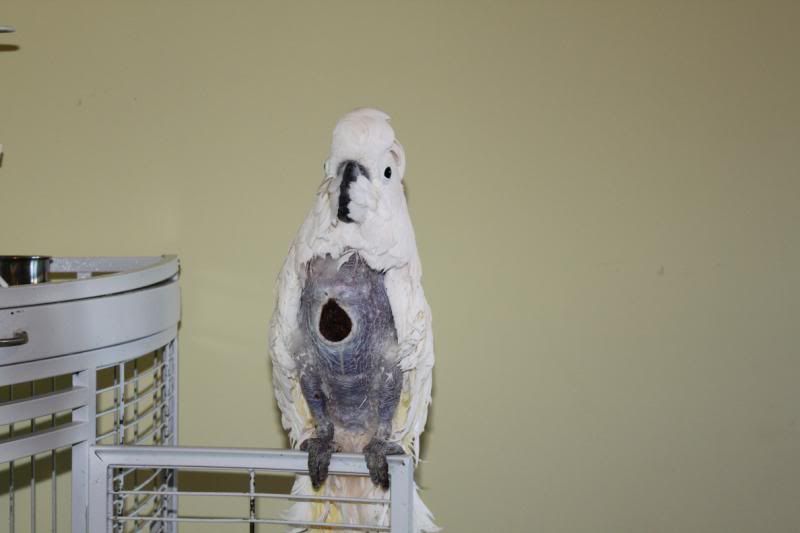 Close up of wound
This is only a part of why Mytoos believes in RESCUE AND ADOPTION! At least it isn't a money grubbing piece of crap human trying to make money off a dying bird and that money goes to HELPING other birds!TRULY HELPING! Not giving money to some idiot that just wants to get rid of something but hates to let it go for free to someone who might care and help!
PS...the wound...it went 5 mm into his keel bone and his organs were shutting down from lack of healthy food and infection as well as gout.I did get this M2 for free after much pleading.He cost me over $900 in just a few days worth of testing and desperate attempts to save him.He could not be saved unfortunately.And the individual did get charged and can not own a domestic or non domestic animal for 10 years as well as having many fines.Did I not do the right thing?This was after being told that I shouldn't even bother contacting Animal Protection because they wouldn't do anything.She was just sentenced Thursday.